EMA Live Event In Austin, Texas, USA!
July 22nd, 2023
Live Music Ecstatic Dance & Community Activation
Join EMA in person for a high-vibe Live Music Ecstatic Dance with Living Earth Circle and special guest Gustavo Rodriguez!
This dynamic community activation event will also feature Medicine For The People community convergence.  Crystal Bowl Sound Bath,  Cacao Lounge, Cards For Connection, sacred space and more!
Benefit for Eco-Conscious Music Alliance – together we rise!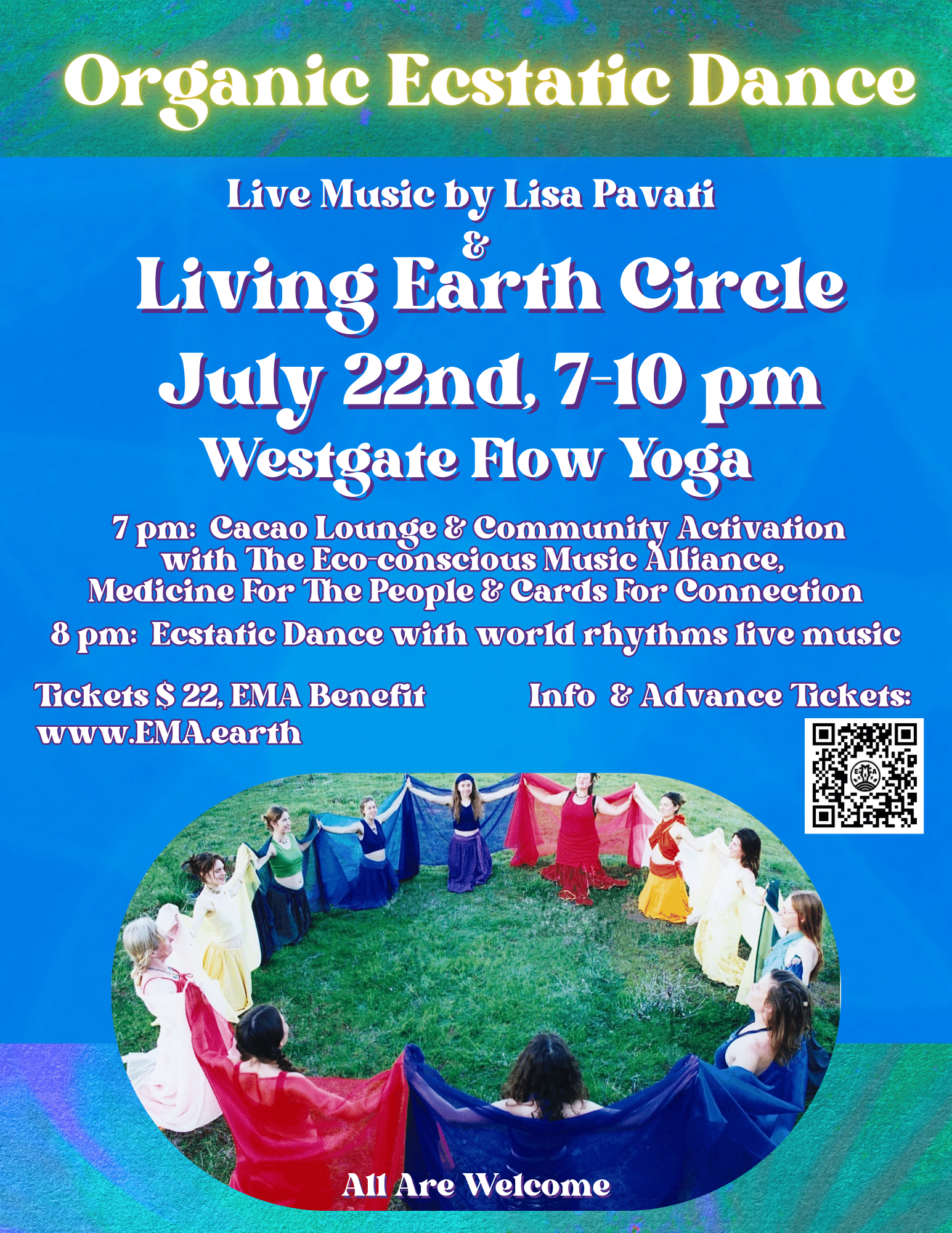 EMA's New Foster A Community Garden Project – Now Open for Enrollment 
Grow food and community with EMA's support! EMA's Foster A Community Garden Project helps people start seeds and grow plants for community-serving gardens. Innovated from the EMA ATX Urban Garden  Network, we are thrilled to be able to offer this successful project to our global community. The support package will include a starter kit with training materials, project templates and live events.
Seeds for food, herbs and pollinator plants will also be available as long as supplies last. 
EMA Hub Highlight:
From Winter Storm  Emergency Relief to Locally Grown Food Resilience
The Eco-conscious Music Alliance's Austin Hub delivered 1000's of hot meals to care for those impacted by Winter Storm Uri, with focus on the elderly, community of color, low income and vulnerable populations. EMA is based in Austin, Texas, where the Winter Storm Climate Event shut down the city, leaving residents without heat, water, power and passable roads, with freezing temperatures in a city with no infrastructure for extreme cold. 
The following Spring, EMA ATX launched the Austin EMA Urban Garden Network. The project supports community-serving gardens in food deserts and historically marginalized neighborhoods. This EMA Action Hub is helping to grow food, equity and community- from a inner city Children's Garden to a free community Permaculture Food Food Forest.
Please help us provide this crucial support of caring for those in urgent need –  donate or volunteer to make a difference.
Livestream events that showcase inspiring
eco-conscious 
musicians from all over the world
and bring people together 
to take action for positive change locally and globally!
Community Projects Around the World
Local Sustainability – Climate Action – Food Supply
Training Programs and Infrastructure Support
Local and Global ThinkTank Planning Sessions
Online and In Person Community Organizing
Together We Rise – Join the Movement!
EMA brings together the transformative energy of live music, online and in person events, high-caliber training programs, socially distanced community organizing, and innovative on-the-ground projects to help heal the world!
We co-create exciting projects for local sustainability, climate action, COVID-response, community connection and more.
Be the Change- Get Involved
Together, we can grow a flourishing world for all!
Do you want to be part of heart-centered solutions, help heal the Earth,    co-create community projects and enjoy epic music? 
Get involved with the Eco-conscious Music Alliance and local projects happening all over the world – be the change!
Your Support Makes EMA Possible
Please donate to help us catalyze local community sustainability projects around the world, mobilize emergency relief support, and host inspiring  concerts and change-making events!
Thank you!